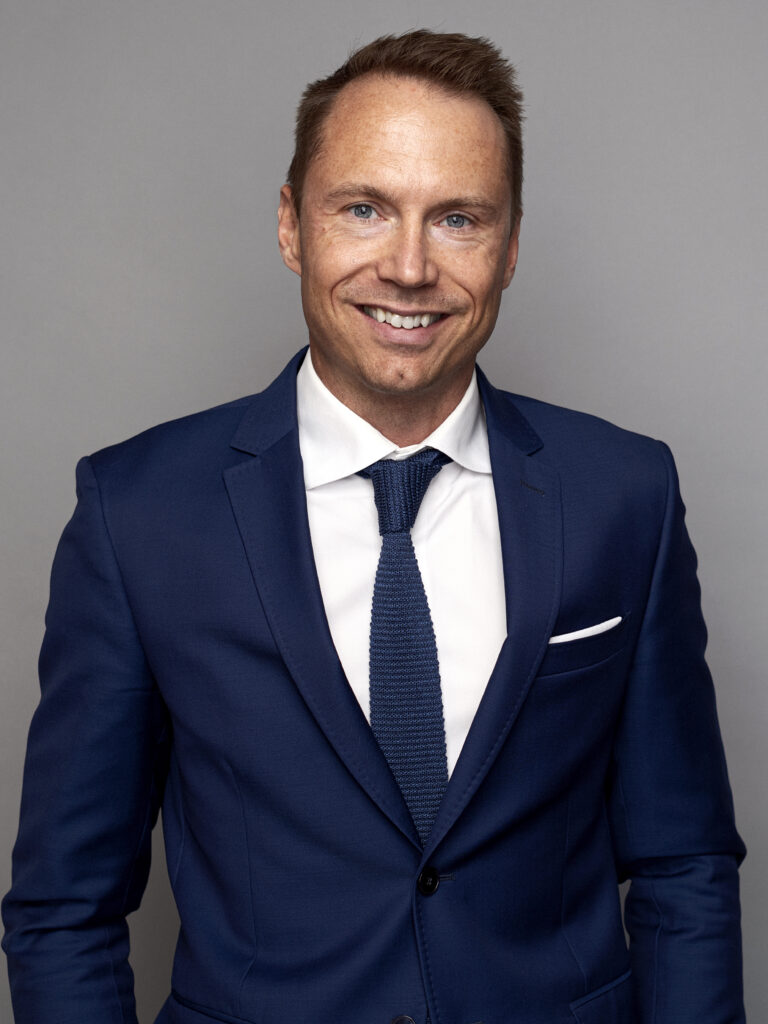 Fredrik Roos
Partner, Member of the Swedish Bar Association
Profile
Since 2003, I have been assisting companies with advice relating to technology, IP, commercial contracts, data and privacy.
I am a partner since 2010 and the leader of Setterwalls' IP/Tech team. I am a technology lawyer and assist Swedish and international companies with technology and IP intensive projects including partnerships, transactions, licensing, sourcing, e-commerce, social media and telecommunications. I regularly advice on complex matters in relation to the introduction of new technologies and digital services and have a particular interest and experience in projects relating to data, machine learning, AI, automation, electromobility, Internet of Things (IoT) and Open Source Software.
Based on my experience in both privacy and intellectual property law, and my technology background, I have found a niche in assisting clients with the negotiation of complex transactions and contracts relating to information ownership and the exploitation of data. I have more than 15 years' experience of working with regulatory issues relating to privacy and data.
To our people
career
recommendations
merits
cases
articles
career
recommendations
merits
cases
articles
2006,
Holland & Knight LLP, Boston, USA
2003,
University of Gothenburg, LL.M.
2000-2003,
University of Gothenburg, Department of Informatics, researcher
2002,
Advokatfirman Cederquist, trainee
External publications
2013,
Elektronisk signering (with jur.dr. Jon Kihlman et al.)
2013,
Cross Border E-Commerce: Schweden (with Johan Lind)
2012,
Ambush Marketing (with Lukas Bühlmann, Marina Palomba, Michael L. Novicoff, Fabian Reinholz and Vivien Chan)
2009,
Blowing the whistle in Sweden? - compliance hotlines and protection of privacy (with Bobi Mitrovic)
2009,
Shape, product and trademark? - Is a 3d-trademark something for you? (with Agnes Andersson)
2009,
If I own the copy then who owns the game? - Legal issues in a virtual environment (med Martina Bertilsson)
2005,
Legal Issues in the Global Information Society (with Professor Stephen C. Hicks et al.)
2004,
E-Commerce and the law of Digital Signatures (with Per Furberg et al.)
2003,
Controlling national top-level domains, the question of legitimacy
2003,
ICANN and Internet Governance: Unraveling the Myth (with Konstantinos Komaitis)
2003,
First Come, Not Served: Domain Name Regulation in Sweden
2002,
å ä ö - Trademarks and Domain Names in Sweden
2002,
Domain Names - Estudiar y discutir el sistema que arregla (with Dr. Mathias Klang)
2001,
Why Birtney Rocks! New Business Models for Musicians (with Dr. Mathias Klang)
2001,
Copyright in an Age of Disruptive Technologies (with Dr. Mathias Klang)
2000
eHandelsrätt - Handbok för näringsidkare (E-Commerce Law - A Handbook for Businessmen) (with Dr. Mathias Klang)
Memberships
2007
Association Internationale des Jeunes Avocats (AIJA)
2004,
International Technology Law Association (ItechLaw)
"Fredrik really understands the client's issues from the client's perspective and always tries to find a balanced, suited-for-the-purpose solution."
Chambers Global
"He is attentive, he understands the goals and needs."
Chambers Global
"Fredrik is to the point, extremely service minded and has in-depth knowledge of the relevant IP laws. Fredrik has the ability to communicate complex matters in a simple manner, so that the client is able to understand the issues at stake and make a well thought out decision on how to proceed."
Legal 500
"They are easy-going, hard-working and with an exceptional business understanding that expands well beyond what could be expected by a firm within this practice. The individuals are determined to find solutions and always working hard to find a way forward with the client's best interest in mind. Fredrik Roos' knowledge within the IP area has been vital to the success of my Project.'"
Legal 500
"Partner Fredrik Roos has a unique understanding of the data role in future business model. He has ensured that our Company is well protected against future unknowns without limiting the possibility to work with partners, customers and suppliers in a good way."
Legal 500
"He is one of the best lawyers I have worked with. He gives advice with a business mindset compared with in-house counsel, but still with the quality that you can expect from an external lawyer and with the value for money."
Chambers
"I think he is really good at getting the full picture and is on the money pretty much all the time. He is very knowledgeable in this sector."
Chambers
"Praised for his ability to adapt the advice to the situation and the business aspect."
Chambers Global
"Fredrik is a star, he is very easy to work with and very laid back and he makes complicated issues seem relatively straightforward. He is very hard working, he is contactable any hour of day or night and he has been a real help. I don't know what we would do without him to be honest. I think they are smashing and I have no constructive feedback."
Chambers Europe
"Fredrik Roos is exceptional. Even when supported in matters by international high-end firms, I tend to call on Fredrik to help out in complex situations to find pragmatic, business-based solutions. I use many other firms, but Fredrik and his team has been the first choice for technology stuff."
Chambers Europe
"His service is very good and he helps us both with small and big matters. For a non-professional there is a jungle of dos and don'ts, but with Fredrik's help it turned out really well"
Chambers Europe
"Praised for his ability to find pragmatic, business-based solutions."
Chambers Europe
"I use many other firms, but Fredrik and his team has been our first choice for tech stuff."
Chambers Europe
"He has exceptional availability."
Chambers Europe
"Fredrik Roos continues to provide tailored pragmatic advice, in my experience always finding the right balance between time/cost/quality. I have switched jobs and industries in the past couple of years but continue to reach out to Fredrik for support. He stands out also in an international comparison."
Legal 500
"Fredrik Roos is a trusted and skilled resource."
Legal 500
"Fredrik Roos is exceptional. In a context where I normally work with large multinational firms on transactions I still tend to turn to Fredrik when it gets tricky- he is pragmatic and he really gets what the issue is. A great support."
Legal 500
"Fredrik Roos is an excellent support- he is my main go-to person for most issues and he has a great track record in getting new associates up and running quickly."
Legal 500
"Fredrik Roos specialises in cross-border trade mark and copyright disputes, and frequently advises clients from the automotive manufacturing sector. Clients say he is "very efficient, extremely service-minded and nice to collaborate with."
Chambers Global
"Likeable and highly skilled."
Legal 500
"According to clients, Fredrik Roos demonstrates a 'perfect combination of being highly skilled but at the same time easy to work with.'"
Chambers Europe
"He is efficient, timely and provides business-oriented advice."
Chambers Global
"He is very skilled, proactive and business-minded."
Chambers Europe
"One of the world's leading Data and TMT lawyers"
Who's Who Legal
"The 'solution-focused' Fredrik Roos is 'business-minded' and has 'strong experience of IT industry standards'."
Legal 500
"Pragmatic approach."
Chambers Europe
"Fredrik Roos is singled out for his commerciality and his IT expertise."
Chambers Global
"IP and IT expert Fredrik Roos "brings a reassuring and calm attitude to our cases," according to clients, who appreciate his commercial approach, negotiation skills and availability."
Chambers Global
"Clients highlight that "it's easy to work with him as he knows and understands what to do and what role he should take.""
Chambers Europe
"Technology and IP head Fredrik Roos is "really responsive," enthuse clients."
Chambers Europe
"Appreciated for his service-mindedness and ability to communicate complex matters in a straightforward way to ensure clients can make a fully informed decision on how to proceed."
WTR 1000